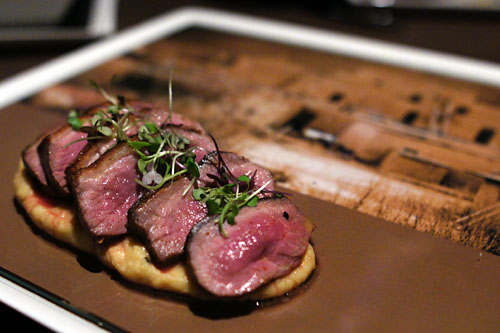 In the lovely Blogging (in) LA series thus far, there has been a wide variety of news worthy, photographically stunning, and extremely useful blogs covered, but I'm here to bring in a little sweet & savory into the mix.  Food.
Foodies and Food Bloggers in Los Angeles are making a huge impact in the landscape of both culinary invention as well as the venues in which food is both served and enjoyed.  They are at the forefront of defining a new set of guidelines on which a restaurants success or failure can be measured, and perhaps one of the most prolific (& one of my personal favorites) food bloggers is kevinEats.  (http://www.kevineats.com/)
If you haven't ever read his reviews, you are in for an undeniable treat.  A well versed photographer who is able to capture the mouthwatering essence of high end dining, kevinEats's knowledge of chefs du jour as well as their master counterparts is astounding, and his posts which generally pre-empt the debut of new restaurants to hit the LA scene exquisitely summarize  the experience and tantalize his readers to follow in his footsteps.  If there's a new chef in town, you can bet that kevinEats will be there, hobnobbing with the staff, part-taking in tasting menus designed to make us wish we had better paying jobs and in general giving us a glimpse into which restaurants SHOULD be added to our never-ending bucket list.
But, reader be warned… this is not a blog to be consumed on an empty stomach, or you'll find yourself angry that you're not sitting in front of a plate of teriyaki foie gras or squid ink pasta.  Well, you might still be angry on a full stomach, but it won't be quite as painful.
[This post is part of our Blogging (in) LA series]