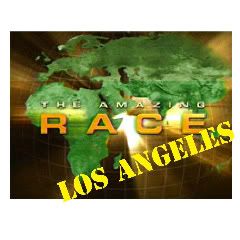 I rarely watch reality shows, but I once was really, really hooked on "The Amazing Race." Two-person teams travel the world, chasing clues and conquering various mental, physical, and gastrointestinal challenges, all to finish first and win $1 million.  The girlfriend and I wanted to audition for the show.  Our highest priority was figuring Our Shtick.  These teams usually had super solid or super weak relationships that helped their chances of landing on the show: mother/daughter; BFFs; divorcees; etc. Our options were, in descending order of likelihood to win their attention: The Lesbians; The Asians; The College Sweethearts; and The Early 20somethings.
But, we never got around to filming our audition video. Come this Saturday or early February, though, we all can live out our fantasies of being stereotyped on a reality show by participating in one of two separate LA-specific, Amazing-Race-type urban adventures.

The first, and most expensive, is this Saturday, January 24: High Trek Adventure's urban race through all of Los Angeles. Starting at the Catalina Jazz Club at 12 noon, you and your mate(s) will race through Los Angeles, following clues and collecting scavenger hunt items.  You can participate as a team, but (womp womp) only 2-person teams are eligible to win cash prizes and to qualify for a nationwide championship tournament. Registration is $50 per person if you register by Friday; $60 if you register day of the race.  If you break out your Doo Dah Parade costume, you might be able to win the fee back by winning their Best Costume Contest.  Yeah!
On February 1 and 7, CityRace LA hosts an urban race through Chinatown. Teams of 2-4 will roam chinaman's land for 3 hours; similar to High Trek, teams will be in hot pursuit of clues and scavenger hunt items.  Registration is $35 per person.  Sample clue: "One of the public rooms in this downtown landmark was virtually turned upside down in a classic Hollywood disaster film."  If you know this and other like trivia about our fair city, your team has an excellent chance at winning an unspecified "selection of prizes," which I take to mean anything from a can of Bud to a new 5-piece living room set from Levitz.  First commentator to answer this question correctly will win highly coveted Metblogs community admiration and a drink on my dime the next time we both are at a Metblogs Classic Eats event.  (How about the one this week?)
If you can't make it to any of these, don't despair – CityRace has additional races planned in different 'hoods throughout the spring. The events culminate in a countywide race that will require teams to battle not only the aforementioned challenges, but also, traffic! Short of actually doing that audition video, this is the closest you'll get to The Amazing Race or, for that matter, experiencing a go-see on America's Next Top Model (worse-than-LA traffic starts at 3:35).
In any case, whether you're the winner or the lanterne rouge, this sounds totally rad. Take some affirmative action, find a group, and start scavengin'.