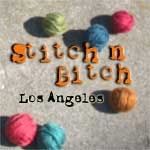 I learned to knit a few weeks ago from a woman who helps organize a group of Los Angeles knitters/crocheters/latch hookers called Stitch N' Bitch LA. Tonight I had the pleasure of attending their weekly meeting in Santa Monica at The Talking Stick Coffee Lounge from 7 to 10 p.m. It was an eclectic bunch of women (and one guy – a very smart guy, might I add, for having the sense to hang out where the women are). The meeting included people from all walks of life: teachers, aspiring actresses, yoga teachers, photographers – to name a few. The group was extremely welcoming of new people and the topics discussed while we all worked on our projects spanned everything from make-up (Sephora may be better than MAC) to movies (Life Aquatic good, but not as good as Royal Tenenbaums) to higher-paying jobs (UPS/Fed Ex drivers make A LOT!) to anal sex (ok, I can't discuss all the secrets revealed, can I?). I really enjoyed seeing all the various projects (latch hooked Eyeore, socks knit with four needles, hats, scarves, afghans, etc). And knitting while listening to all the conversations and getting to know everyone instead of television as background noise was a welcome change. I met a lot of really nice people and am looking forward to attending future meetings.
If you're interested and can't make a Santa Monica meeting, there are other Stitch N' Bitch groups throughout So. Cal, including West Hollywood, Atwater/Glendale and the Valley. More info and a calendar here.
And not to get all kumbaya on all of you, but blogging.la is much like a virtual knitting circle. We all gather here to partake in a common hobby: discussing the wonderful (and sometimes not-so-wonderful) Los Angeles. I digress.