Hey blogging.la community! Wanted to quickly introduce myself… in blogging.la's wonderful decision to add on a slew of new bloggers, I somehow made it through the hurdles and have been warmly welcomed into the community. So who is this newbie blogger you ask? Well, even if you didn't I'm still going to tell you. I'm a native Los Angelino, such a rarity it seems, who had a normal childhood growing up in the suburbs of West Hollywood, traipsed to New York for a quick jaunt, and then missing the warm So-Cali sun returned back to the homeland. Like all good LA children, I've made my nest in the "Industry" but fashion myself as a foodie & blogger on the side. If your taste buds teeter on the side of adventure, you'd probably enjoy my collection of deliciously baffling cupcakes on my blog, Cake & Heels. When I'm not baking, reading scripts or planning massive beer pong tournaments, I've decided that I'm dedicating that remaining 5% of free time on my pie chart of life to writing HERE, on blogging.la. So seriously, THANKS for having me and hopefully this is the beginning of a long and beautiful relationship!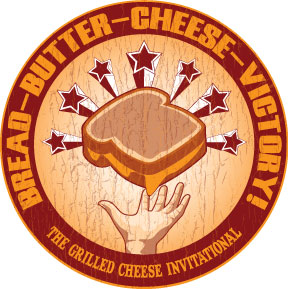 So let's get down to the oh-so-gooey and cheesy heart of this post… preferably layered between slices of freshly baked bread. It's that time of the year, the 2nd 8th Annual Grilled Cheese Invitational! This Saturday, April 23rd, Los Angeles Center Studios plays host to what has grown into a massive annual tradition. Over 300 amateur & professional competitors battle for grilled cheese glory in 4 different categories: Love, American Style || The Missionary Position || The Kama Sutra || The Honey Pot. And the best part? YOU can be the judge.
In addition to the usual crowd of foodies, fans and cheese heads, you can expect some fierce competition out of the likes of Top Chef Masters: Eric Greenspan from The Foundry, Food & Wine's Best New Chef of 2011: Ricardo Zarate from Mo-Chica and the soon to be hit Picca, the amazing Walter Manzke formerly of Bastide, Church & State and currently at Le Saint Amour, Eric Samaniego from my Sunday night favorite Comme Ca, Micah Fields who loves to please at the Standard Downtown and Nyesha Arrington from the gorgeous Cache on Main Street. Plus the fabulous Alie & Georgia of McNuggetini Cocktail Fame will be on hand mixing up magical libations during the event!
The 2nd 8th Annual Grilled Cheese Invitational
Saturday April 23rd || 11AM – 6PM
Los Angeles Center Studios
1201 West Fifth Street
Los Angeles, CA 90017
$12 Online, $15 at the Door, $17 Judging Pass
www.grilledcheeseinvitational.com