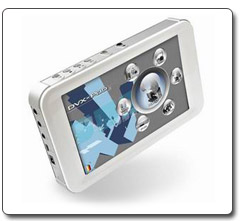 On the NPR program "Day to Day" this week, I hit the streets with Alex Chadwick to try out a few new gadgets, including two which seem particularly fitting for LA residents:
* A PDA-like traffic reporting device called TrafficGauge ($80, thanks to Mike Outmesguine for turning me on to this one!). Only available for two cities right now, and LA's one of them.
* A kick-ass handheld theater called the DVXPod (shown here) that plays music, movies and television shows ($599)
Link to archived audio for this program, Link to NPR Day to Day home.